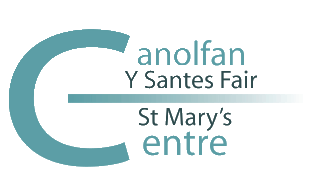 A Christian Research Institute
NEWS ARCHIVE
May 2017
Religious experience among sixth formers
The St Mary's Centre has played a significant role in coordinating surveys of sixth-form religion in Northern Ireland. The surveys, initiated by John Greer and continued by his colleagues, present a rare opportunity to record and examine the changing significance of religious identity in Northern Ireland over five decades.
Read more
...
Doctoral candidates explore religion and education in a changing world
The St Mary's Centre continues to support doctoral candidates working in the fields of Christian education and ministry studies within the University of Warwick. Two doctoral candidates presented papers at the Postgraduate Research Conference on Saturday, 6 May, focusing of the conference theme, 'Education in a Changing World'.
Read more
…
April 2017
Spring workshops on biblical hermeneutics
The St Mary's Centre promotes experience-based learning rooted in the SIFT approach to biblical hermeneutics and liturgical preaching. Recent workshops have been run for the Diocese of Chester and for the Waterloo Lutheran Seminary, Ontario.
Read more
…
March 2017
Religion and mystical experience
The St Mary's Centre has been coordinating a set of international studies on mystical experience within contemporary societies. The new study on mystical experience among Italians was completed during March.
Read more
…
Clergy psychological wellbeing
The St Mary's Centre has been coordinating a set of international studies on clergy psychological wellbeing. On 31 March Leslie J Francis shared the findings of this research at a clergy study day in Newfoundland.
Read more
…
February 2017
Bishop David Walker reflects on empirical theology

Bishop David Walker reflected on empirical theology when Leslie J Francis was installed as an Honorary Distinguished Canon of Manchester Cathedral at evensong on Sunday, 29 January 2017. Bishop David Walker drew attention to the key contribution made by the St Mary's Centre to the field of empirical theology.
Read more
…
New MA for developing research-based reflective practitioners

The St Mary's Centre welcomes the opportunities provided by an exciting new MA programme, which focuses on developing research-based reflective practitioners from a wide range of Christian faith-related contexts, inlcuding (among others) church, school, and chaplaincy.
Read more
...

Celebrating religious diversity in the UK: Launching new resources

The launch of a new academic book (
Attitudes to Religious Diversity: Young People's Perspectives
) and new curriculum resources (
Exploring Why
series
and
Exploring Our World
series), focussing on young people and religious diversity, took place in Coventry Cathedral on the evening of 27 January 2017.
Read more
...
December 2016
A Place of Trust: Welcoming the Challenges of Diversity

In response to enquiries, the St Mary's Centre has added the resources for the song, 'A Place of Trust' (Hafan Ffydd in Welsh) to its website. In 2011 the song connected young people across Wales and England as they celebrated religious education in their local and national contexts.
Read more
…
November 2016
Effective Christian Presence: Rural Theology

The November issue of Rural Theology: International, Ecumenical and Interdisciplinary Perspectives (Edited from the St Mary's Centre by Tania ap Siôn and Leslie J. Francis) was a special issue on Effective Christian Presence under the guest editorship of the Revd Dr Canon Malcolm Brown, Director of Mission and Public Affairs for the Archbishops' Council of the Church of England.
Read more
…


Scientific Study of Religion
The faculty of the St Mary's Centre were represented at the annual conference of the Society for the Scientific Study of Religion (SSSR) held in Atlanta, Georgia, USA, delivering the following papers:
* Tania ap Siôn, Creating a place of prayer for the 'other': An experimental study exploring the effects of re-shaping congregational space in a cathedral in Wales;
* David W. Lankshear, Listening to churchgoers in their twenties: Drawing on a congregational survey in South London;
* Leslie J. Francis, Religious experience and religious motivation among Catholic and Mainstream Protestant churchgoers in Australia: Drawing on theories from the psychology of religion.
Read more
…
Research-led Resources for the 3-7s: Supporting Religious Education in Today's World
Bear Lands Publishing has published two new storybook series with free resources for 3- to -7-year-olds. The
Exploring Why
and the
Exploring Our World
series have both been sponsored by the Welsh Government's commissioning programme.
Read more
...
October 2016
Rural and Retired Clergy: Research and Support
At the October 2016 annual residential symposium, the new research initiative was launched into listening to the experiences of retired clergy who are currently offering so much to keep the rural church alive and well. The research is intended to identify how retired clergy in rural areas may be better supported.
Read more
…
August 2016
Learning Church: Theology for Discipleship Ministry
Three new volumes were published in this series by the faculty of the St Mary's Centre:
* Conversations with the Old Testament by John Holdsworth
* Encountering the Bible by Andrew Village
* What Do We Believe? Why Does It Matter? by Jeff Astley
Read more
…
July 2016
Research in Religious Education
Four members of the faculty of the St Mary's Centre attended the conference of the International Seminar on Religious Education and Values (ISREV) held in Chicago, Illinois, USA: Tania ap Siôn, Jeff Astley, Leslie J. Francis, and David W. Lankshear. At this conference they launched the new book, Diversity and Intersectionality: Studies in Religion, Education and Values.
Read more
…
April 2016
Discipleship Learning
Leslie J. Francis and David W. Lankshear launched the report on the new study into discipleship learning on which they collaborated with the St Peter's Saltley Trust.
Read more
…
March 2016
Young People's Attitudes toward Religious Diversity
Tania ap Siôn presented an overview of the quantitative strand of the Young People's Attitudes toward Religious Diversity project at the International Conference on The Abrahamic Religions and Interreligious Relations at University of Navarra, Spain.
Read more
…
November 2015
Anglican Cathedrals in Modern Life: The Science of Cathedral Studies
In this significant edited collection of essays, Leslie Francis offers to us 'the Science of Cathedral Studies', which proposes a new theoretical framework and systematically applied approach to the study of cathedrals, illustrated through a collection of empirical studies.
Read more
... (and obtain a special promotional discount of 30% available until 31 December 2015)
October 2015
Exploring the Public Significance of Religion

Over 35 researchers in practical theology and religious education came together for a three day symposium at the retreat centre, Noddfa, in Penmaenmawr. This annual event, convened by the St Mary's Centre, drew participants from around the world, including Ireland, Malta, Italy, and Canada as well as the UK.
Read more
...

The St Mary's Centre celebrates Doctoral Successes

The St Mary's Centre congratulates Dr Henry Ratter and Dr Owen Edwards on their recent doctorates conferred at the graduation ceremony at Glyndwr University on 30 October 2015.
Read more
...
Teddy Horsley goes Digital
Teddy Horsley has been part of church, school and family life for over thirty years through his extensive series of Teddy Horsley storybooks as well as his visits to various locations in Wales and England. Now Teddy Horsley has taken a leap into the digital world and has his own website.
Read more
...
August 2015
Teddy Horsley follows Pilgrims' Trail on Church Island
Teddy Horsley always enjoys visiting Church Island, near Menai Bridge. On his last visit to
Church Island at the end of July, he was delighted to find the Teddy Horsley Pilgrims' Trail
all set up and ready to follow in the ancient church of St Tysilio.
Read more
...
November 2014
Type and Conflict in Christian Communities
Britain has one of the most lively religiously-inspired communities of Type-aware practitioners in the world!
Read more ...
September 2014
The St Mary's Centre Launches New Religion, Values and Human Rights Project

This September marks the launch of a new Religion, Values and Human Rights project in Wales and England.
Read more ...
June/July 2014


Is Belief in God a Matter of Public Concern in Contemporary Wales?

An important new study has been published this month in the journal

Contemporary

Wales, which raises the question, "Is belief in God a matter of public concern in contemporary Wales?" Read more...

St Mary's Centre Wales Speaks for Religious Education in Wales
Last week Dr Tania ap Sion's authoritative paper on Religion and Education in Wales was launched in Vienna in the second volume of the magisterial series of books on

Religious Education at Schools in Europe.

Read more ...



Religious Education's Hidden Contribution to

Community Cohesion in Wales
An article by Dr Tania ap Sion has recently been published in the journal

Contemporary Wales,

which identifies and explores the role that Standing Advisory Councils on Religious Education (SACREs) play in promoting interfaith dialogue and community cohesion in Wales. Read more ...

April 2014


European Correspondents Meet to Discuss Common Issues Facing Church and School

At the end of April national correspondents from 16 European countries met together at a chateau in Klingenthal, Alsace, to discuss areas of current interest and concern for church/school relationships in their countries.
Read more ...


October/November 2013


Ordinary Sacramental Theology in Rural Wales

Professor Peter Neil, Vice Chancellor of Bishop Grossteste University, Lincoln, has recently published a significant new study exploring the beliefs of ordinary churchgoers in rural Wales. Read more ...



Insights into Christian Leadership Styles


The Annual Symposium of the Network for Psychological Type and Christian Faith met at King's Park, Northampton, 31 October - 1 November 2013. The theme for this year's Conference was Type, Faith and Christian Leadership, and 21 participants from across the UK attended. Read more ...

Resourcing National Priorities in Wales
On 10 October 2013 the Wales Association of SACREs held a national conference, focusing on national priorities impacting on Religious Education in Wales. Read more ...


August / September 2013


New Journal to support A-level Religious Studies

The St Mary's and St Giles' Centre have recently published a new online journal designed to support both students and teachers involved with A-level Religious Studies.

Challenging Religious Issues

is a Welsh Government commissioned resource and can be downloaded free of charge. Read more ...

The St Mary's Centre impresses the Vatican
Recent research published by the St Mary's Centre has been profiled on the Vatican website. The research offers new insights into the psychological profile of Catholic priests surveyed in the USA. Read more ...

Farewell to Gavin

Gavin Craigen was appointed as the founding Director of the St Giles' Centre in Wrexham and retired from his post earlier in the year.
Read more
...
The St Giles' Centre: changes in the Directorate

Following Gavin Craigen's retirement from the post of Director of the St Giles' Centre in Wrexham, the Management Committee of the St Mary's and St Giles' Centre Trust has instigated some important changes in the Directorate.
Read more
...
A Pilgrimage to Taize

In July 2013 eighteen young people from Wrexham went on pilgrimage to Taize. Mary Stallard, Director of Faith Development at the St Giles' Centre, Wrexham, reflects on the experience.
Read more
...
September/October 2012
Young People's Attitudes to Religious Diversity in Wales
Initial results emerging from the Welsh data of the Young People's Attitudes to Religious Diversity Project were presented at the Wales Association of SACREs meeting in Llandudno Junction on 26 June 2012. Read more …
SACREs and the Local Community
The Wales Association of SACREs has recently published the results of a survey exploring the relationship between SACREs and their local communities. Read more …
Symposium for Practical Theology and Religious Education
In the St Mary's Centre annual symposium programme, the Right Revd David Walker, Bishop of Dudley, spoke about different types of belonging and their significance for pastoral practice and pastoral care in rural church contexts. Read more …
June 2012

Teaching Religion, Teaching Truth…
One of the major issues across the globe concerns the connection between the task of religious education and commitment to the truth claims of the religions of the world. Read more…
What is the impact of Ordained Local Ministry?
Ordained Local Ministry is both an innovative and controversial development in the Church of England. A new book launched on 12 June 2012 explores the case for and reservations against Ordained Local Ministry. Read more…
May 2012

European School Leaders Visit Wales
The St Mary's and St Giles' Centre host a European schools leader's visit to explore the provision for religious education in Wales with the aim of sharing and encouraging critical reflection on practice.
Read more
...
Learning outside the Classroom and RE: measuring the impact
A series of workshops at Bangor Cathedral has provided the setting for a St Mary's Centre research project which aims to evaluate the relationship between learning outside the classroom experiences and pupils' learning.
Read more
...
The Power of Prayer Online
In a recently published article on online prayers, researchers from the St Mary's Centre have found that people accessing the power of prayer online rather than visiting a church are much more likely to pray for themselves rather than someone they know.
Read more
....
Education grant awarded to Bangor Cathedral

An 'Encouraging Enterprising Churches' grant has been awarded to Bangor Cathedral. The Cathedral will use the grant to develop its ministry to young people through the popular children's storybook character, Teddy Horsley.
Read more
...


Archbishop Launches National RE Celebration in Wales
Learning about religion and faith is a vital part of a child's education, the Archbishop of Wales said at the launch of a month-long celebration of Religious Education in schools across Wales.
Dr Barry Morgan said RE educates the whole person, broadening their horizons and helping them understand the world they live in. He also acknowledged the support the subject receives from the Welsh Assembly Government.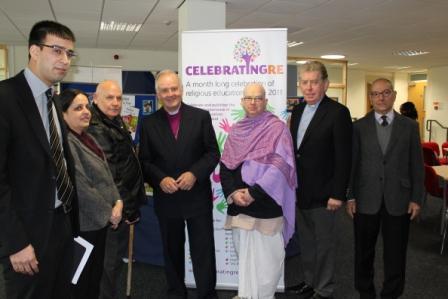 Schools, colleges, local authorities and faith communities across Wales and England are all celebrating the value of Religious Education throughout March. The initiative, 'Celebrating RE' is being organised by the RE Council for England and Wales. The Wales Association of SACREs together with the National Advisory Panel for Religious Education are taking the lead in Wales. Hundreds of national and regional events have been planned, which are designed to promote and showcase the value of quality Religious Education.
The official launch of 'Celebrating RE' in Wales by the Archbishop was held on MARCH 2 at Stanwell School, Penarth. At the event representatives of other faiths in Wales - Jewish, Hindu, Muslim Sikh, Buddhist and Baha'i – also spoke about the value of RE.
Children sang a song written for the event by Welsh composer, Pwyll ap Siôn. This shared song of celebration will link together young people from across Wales and England as they celebrate Religious Education together.
Dr Morgan said, "In 2011, we can say with confidence that this is a good time to be a person of faith in Wales. Issues of faith are discussed openly and there is a welcome for faith groups to speak with Welsh Government to the highest level, with a shared commitment to work in partnership to give our children and young people the very best start in life, and equip them with knowledge, values and meaning that will equip them for the journey of their lives.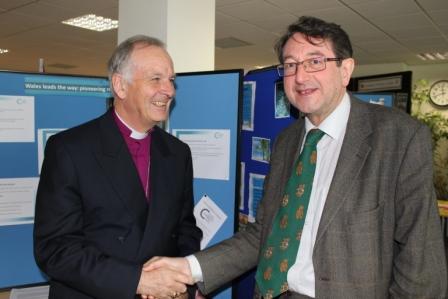 "We are fortunate in Wales that the value of Religious Education has been recognised and supported by the Welsh Assembly Government. RE has played its part in the review of the school curriculum and is benefitting from the Exemplar Framework for Religious Education published in 2008...
"I have such hope that this event, reaching across Wales, will inform and give richness to the curriculum that our teachers deliver and that it will help our schools to become places of exploration, humanity and shared endeavour, rather than places of narrow personal attainment."
Dr Morgan also said RE helped promote tolerance and understanding in today's world. He said, "The current generation of young people in our schools will immerse themselves in a world where boundaries of nationality and culture are breaking down. Surely we have a duty to prepare them for that experience and to have a confident understanding of why their friend, work colleague, team mate or partner places such an emphasis on their faith."
He added, "'Celebrating RE' is an opportunity for the faith community of Wales to acknowledge with gratitude the tremendous work that going on in schools across Wales, to lead our children and young people to the threshold of a new understanding of faith and culture. It should also give us an opportunity to pledge our support in every prayerful and practical way to this cause."

Dr Tania ap Siôn, representing the Wales Planning Group, said:

"Religious Education in Wales today provides a special place where young people are able to engage with fundamental questions, explore different beliefs and practices, and offer their own personal responses. Through Religious Education, young people are being equipped with the skills needed to learn about themselves and others in a safe and respectful environment. This is of immense educational value and offers a significant contribution to community cohesion in our communities. The 'Celebrating RE' month gives us an opportunity to celebrate the important contribution of Religious Education and to showcase good practice."

Both the English version (Place of Trust) and the Welsh version (Hafan Ffydd) have been released by Sain, and feature well-known Welsh singers Dafydd Dafis and Eleri Fôn with a choir from Ysgol Tryfan, Bangor. The song, available from iTunes, will be performed by school choirs at both the England and the Wales launches as well as by schools across Wales and England through the 'Celebrating RE' month.


The full transcript of the Archbishop's speech is available here and also the statements of the faith community representatives


The programme for the Wales Launch of Celebrating RE is also available.


Celtic Christianity Today and Psychological Type
The last forty years have seen an increasing interest in Celtic Christianity. Some of this may be the result of Christians seeking a more appropriate spiritual approach to living in today's society. Interest in our roots and heritage, resulting perhaps from living in a society which seems less secure than in the past due to various influences, may also have contributed to the interest in what is often portrayed as a more settled and 'Golden Age' of Christian life.
Added to this is the continued decline in church attendance and the need to look for new ways of being church which offer a spirituality which connects with people's situations and concerns today. J. Philip Newell's 'Christ of the Celts' (2008) and Ian Bradley's 'Celtic Christian Communities' (2000) are two examples of adapting the Celtic Christian tradition for today's Christians. Several writers point to aspects of Celtic Christianity as offering ways of dealing with the problems which face our world and society today. This group of writings which also includes lives of the Celtic saints, prayers and liturgies, most of which are new but claim to be based on Celtic Christian thinking and theology, forms the largest output. However there are two other strands to be found in the current literature. The first is the academic historical accounts of Celtic Christianity in these islands before 1066, including monastic life, the writings and poetry of Celtic Christian monks and theologians, and hagiography. Some of these writers are critical of what is often called Celtic Christianity today. The second group seems to try to bridge the gap between the more popular and the academic. It includes books which are often historical in tone but influenced by the romanticism associated with this era and with earlier revivals of interest in all things Celtic. Both the more popular literature and this second group generally perceive the early centuries of Christianity in these islands as reflecting the way of life to which it is desirable to return. Much literature views these centuries as a 'Golden Age of Celtic Christianity.'
With this apparent interest in Celtic Christianity, the question arises as to whom it is appealing and why. Trying to answer these questions may help in understanding why Celtic Christianity seems to offer a fresh approach to spirituality through the use of Celtic liturgies, prayers and the lives of the Celtic saints. It may tell us something of why it fulfils the apparent need for roots and heritage and what it is that individuals value in this outpouring of Celtic Christian literature?
The initial approach chosen was to examine the characteristics associated with different psychological types based on the Myers Briggs Type Indicator and also aspects of Celtic Christianity and suggest which of those aspects might appeal to the different psychological types and why. Features of Celtic Christianity included were monasticism, penitential literature, Celtic Christian teaching about God and Jesus, creation, worship and liturgy including prayer, evangelism, Celtic arts, holy places and pilgrimage and Celtic saints. From this it was possible to suggest a link between psychological type and preferences in the field of Celtic Christianity as it is portrayed in the current revival.
Having proposed a hypothesis, the next step is to test some of those theories. A questionnaire was designed which asks respondents to answer questions about aspects of Celtic Christianity which they might value using the Attitude toward Celtic Christianity Scale and also to complete the Francis Psychological Type Scales. Two hundred and forty eight Anglican clergy and lay church officers have already completed the questionnaire but there is now a need for as many as possible of those who have a direct interest in Celtic Christianity to complete it also.
From the resulting data it is hoped to draw out the possible links between the appeal of Celtic Christianity and psychological type. It is also possible that the data might suggest ways in which the power of psychological type theory accounts for the variation in the attitude of both committed Christians and other individuals to Celtic Christianity. The research will hopefully be able to explain some of the reasons for the popularity of Celtic Christianity and hence why so many people seem drawn to it as a form of spirituality and perceive it as offering solutions to living in harmony with creation and the world. The data may also help to explain why others find this form of spirituality less attractive and of little value to their life of faith.
If you are interested in Celtic Christianity and would like to help with this research please go to http://www.celticchristianitytoday.co.uk/
Revd Gill Hall